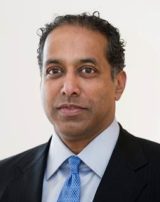 Amjad Ghori – NECG Affiliate
Amjad is a seasoned Financial Advisory Executive with more than 25 years of banking and development finance experience gained from leading and closing multiple "First-of-a-Kind" power and social infrastructure projects on a global basis.  His extensive experience traverses roles as a Corporate and Project Finance Banker, a Power Developer, a Financial Advisor and, most recently, a recognized expert in Nuclear financing and SMRs lecturing and leading workshops under the aegis of the IAEA, IFNEC, and USTDA.
Amjad Ghori detailed CV (PDF)
Amjad has been an active player in the nuclear sector dating back to 2008, having lead Financial Advisory teams working on behalf of public and private sector clients developing NPP transactions in Bulgaria, Lithuania and Finland during his 11-years as a Managing Director in Credit Agricole – CIB's ("CACIB") Structured Finance Advisory Group based in London.  The Advisory teams were tasked with reviewing and recommending changes to draft Project Agreements and initial Financial Models of the proposed transactions.  In TVO's OL4, Amjad and his team were asked to specifically craft the appropriate financing-related clauses in the Bid documents to ensure that Bidders understood the importance of including a bankable financing framework as part of their overall Bid submission.
Amjad's Transaction Advisory background and experience is deeply rooted in Project Finance, which provides the perfect platform from which to analyze project specific risks and recommend mitigation strategies to ultimately achieve bankability. Conversely, while a truly non-recourse project financing has yet to be achieved for a nuclear NPP, Amjad's recent collaboration with the UK Government's Business, Energy and Industrial Strategy ("BEIS") as part of an Expert Finance Working Group ("EFWG") resulted in identifying a handful of limited-recourse options that could potentially be deployed for financing new nuclear projects that were then recommended to Parliament and published in the attached: Market framework for financing small nuclear.
Amjad's extensive power and infrastructure project development experience also gives him the skills to identify and assess qualitative and quantitative "Must-Haves" that an equity investor requires.   The combination of advisory and development experience allows Amjad to assess the viability of a transaction's proposed commercial, contractual and financing structure and probability of success.
Amjad is also a frequent lecturer on nuclear financing and has conducted workshops in nuclear financing under the IAEA umbrella in the US, France, and Sri Lanka.  He is also increasingly sought out to participate in Workshops and Panel discussions on SMRs in person (IFNEC in November 2019 and Abu Dhabi in February 2020) or in Webinars (June 2020 and September 2020).
Prior to joining CACIB, Amjad spent 10-years as a Senior member of CMS Energy's in-house Financial and Strategic Advisory group that raised in excess of US$ 5.0 bn in financing for several ground-breaking, "Pathfinder" IPP and IWPP projects in Abu Dhabi, Morocco, and India. Amjad was also a key member of the Development Teams entrusted with investing CMS's equity in these landmark transaction
Amjad has a BA in Economics from Boston College and completed his coursework towards a MA from the Johns Hopkins School of Advanced International Studies (SAIS) with an emphasis in US Foreign Policy.
Contact at aag@nuclear-economics.com