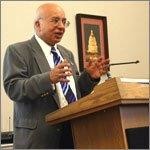 Dr. Vijay Sazawal – NECG Affiliate
With 40 years of nuclear industry experience in managing projects across the entire fuel cycle covering advanced reactor systems (Westinghouse), back-end (Cogema) and front-end (USEC), Dr. Sazawal has either led or participated at senior management levels in numerous government nuclear programs both nationally and internationally. He is particularly knowledgeable about government policymaking, promotion of civil nuclear exports, and international nuclear commerce.
He was a subject matter expert on the U.S.-India civil nuclear agreement for the U.S. India Business Council (USIBC), and continues to maintain contact at the highest levels of both governments on the subject. He also served for two terms on the Civil Nuclear Trade Advisory Committee (CINTAC) of the U.S. Department of Commerce.
Dr. Sazawal has given numerous lectures on prospects for the U.S. civil nuclear exports at various prestigious institutions, including Massachusetts Institute of Technology (MIT). In addition to being an NECG Affiliate, Dr. Sazawal is the Principal of International Atomic Energy Consulting (IAEC) in Maryland.
Contact at vks@nuclear-economics.com
Dr. Vijay Sazawal CV (PDF)